Just one more step.


You LOVE sewing - that's a fact.
Why not profit from it?
5 REASONS TO MAKE WEDDING DRESSES
OR HOW TO EARN $10,000 A MONTH DOING WHAT YOU LOVE.
​
1. 2,500,000 WEDDINGS A YEAR
There are 2,500,000 weddings a year in the U.S. alone.
That's over 6,800 a day on average!
Demand is extremely high and it is only growing.
2. THE COST OF A WEDDING DRESS IS $2000
The average wedding gown price in the US is $1000.
A custom made fitted dress starts at $2000-$4000 (depending on the area and the dress style) and there is no limit.
3. MAKE 10 DRESSES PER MONTH
Using our methods and tools, our students make a custom perfectly fitted gown from start to finish in just 2-3 days.
That's about 10 gowns a month made by just one person alone.
The math is pretty straight forward on that one.
4. PRESTIGE AND FULFILLMENT
Wedding and evening apparel is the pinnacle of the fashion industry.
It's highly paid, respected, rewarding and fulfilling.
5. BE YOUR OWN BOSS
Build your own schedule. Work with people you want.
Realize your creative potential.
Bring joy to yourself and to the people around you.
24/7 ACCESS
FROM ANY DEVICE
NEW COURSES ADDED FREQUENTLY
EXPLORE THE WORLD'S LARGEST

LIBRARY OF DRESSMAKING COURSES
The Pattern Alteration Software separates us from any other sewing school ever created.
​
With the Corset Academy software there to act as your "Personal Assistant" you will be able to calculate fabric consumption, pattern adjustment, style variations for any body type in seconds.
​
Use this patented one-of-a-king software to leave your competition behind.
OUR STUDENTS DESIGN GOWNS FOR CELEBRITIES
"Corset Academy is an amazing resource to help upskill my work. I have gained so much knowledge, and confidence to provide the best work I can to my clients"
THE WORKS

OF OUR STUDENTS
DIPLOMA CERTIFICATE
Complete the essential program and receive a personalized certificate.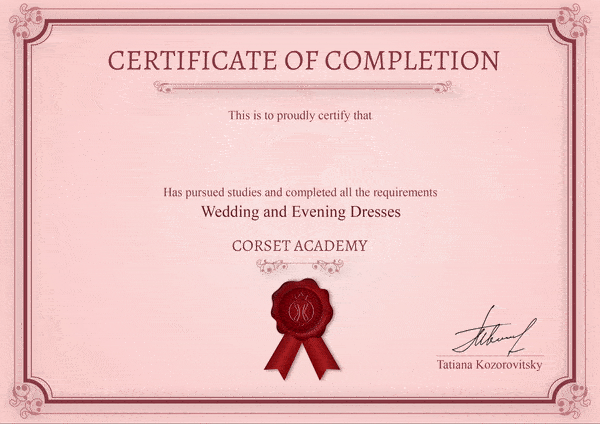 Choose a plan and enjoy

24/7 access

to the world's largest library of dressmaking courses for all skill levels.
Lifelong plan allows unlimited access for all the current and future content. One payment - forever VIP access.
The annual membership renews automatically 12 months after the first day of paid membership. Cancellation of annual memberships won't affect account access until the billing anniversary is reached. Monthly memberships are automatically billed each month on the anniversary of the membership and can be canceled at any time in one click in the 'My Account' section.
If paid with PayPal accounts will be activated within 12 hours or less.
THE BEST RETURN ON INVESTMENT
JUST
ONE
SEWN DRESS WILL COVER THE PRICE OF YOUR COURSE!
YOU'LL MAKE PERFECTLY FITTED HIGH-END GOWNS


OR YOUR MONEY BACK GUARANTEED!
We are happy only when you are happy!




That's why we offer a "Corset Academy Double Guarantee":




14-day money back - no question asked:




Make an informed decision: try it and if it's not for you, that's okay. You'll get a full refund, no question asked.





Results guarantee:




If after completing the program you won't be able to make a PERFECTLY FITTED corset garment, won't feel ENLIGHTENED and your dressmaking skills won't EXPAND, you'll get a full refund.